Swanson Road

Printer-friendly version

Send to friend

PDF version
ShareThis
September 24
Sunday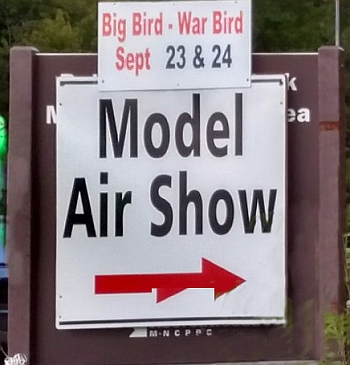 Welcome back to Swanson Road, one of the smaller parks associated with the Patuxent River Park system. Since the PG Radio Club War Birds event is scheduled for the same weekend, we've moved the QOC event to the north end of the park, with parking along the entrance road. If you need a street address, use 17110 Swanson Rd Spur, Upper Marlboro, MD 20772.
Beginner Instruction: There will be beginner's instruction, as always, as well. If you are interested and don't see who is giving it, ask at the registration table. A QOC member will show you how to read a map, teach you how to use a compass with your map and give you hints on how to navigate your choice of course. Besides that, just wear a smile and the clothes you would for a hike or run in a local park. Bring a compass, if you have one, or borrow one at the event.
Dogs (on leash) are welcome too.
Parking: Driving directions are below. Look for the sign (see photo to right) on R. 301 to the Prince George's Radio Control Club for the turn-off. Due to the PGRC event at the park we will be parking at the north end of the park. Most parking will be along Swanson Road Spur, the entrance road for the park's northern area. Please park compactly to leave room for others and follow directions from QOC volunteers.
Registration opens at 10:45 and ends at 1:15 p.m. People may start anytime between 11 a.m. and 1:30 p.m. Everyone must be back to download by 3 p.m. Don't forget to download even if you don't finish, so we don't need to send out a search party! Wondering about the map and courses? See below for course setter comments about both.
Youth or large groups attending, please contact the Event Director so that we can coordinate pre-registration for your group; the group registration and waiver form is part of the information on our Group Leaders page.
Location

Swanson Road Natural Area, North end, Upper Marlboro, MD (Classic & Training)

Registration
No advance registration required. Just show up and have fun!
Start Times
You may start your course at any time during the start window listed below for your event.
Schedule
Sunday, September 24

| | |
| --- | --- |
| 11:00 am - 1:30 pm | Classic & Training: Start window |
| 3:00 pm | Classic & Training: All Courses Close: everyone must be back to the finish. |

Volunteers
Location Details

Classic & Training, Classic & Training
Swanson Road Natural Area
North end
Upper Marlboro, MD
Google Map

From the Washington Beltway, take exit 11 to MD-4 South/Pennsylvania Avenue. After 8 miles, exit onto US-301 North. Drive 3 miles then turn right onto Swanson Road. Stay on Swanson Road for about half a mile, then instead of turning right for Swanson Road, continue straight onto Swanson Road Spur. Follow Swanson Road Spur for another half mile then look for parking along the park entrance road.

If your route brings you south on US-301, turn left onto Swanson Road - it's the next junction south of Leeland Road, with the right turn being onto Beech Tree Parkway and the left turn, crossing the highway onto Swanson Road.

Course Details
Classic & Training

| | | | |
| --- | --- | --- | --- |
| Course Name | Length (km) | Climb (m) | No. Controls |
| Short Training | 4.1 | 125 | 13 |
| Long Training | 7.1 | 240 | 19 |
| White | 1.9 | 15 | 10 |
| Yellow | 1.6 | 45 | 8 |
| Orange | 3.8 | 135 | 9 |
| Brown | 3.6 | 130 | 11 |
| Green | 6.7 | 240 | 16 |
| Red | 8 | 285 | 18 |

Course Notes
Classic & Training

Swanson Road provides a mix of mid-Atlantic spur and reentrant terrain, combined with Patuxent River low lands and marshes. Unlike Patuxent River Park, there are many steep areas at Swanson Road. Calculated climbs for each course may be low, depending upon the route choice. Since this year's event will probably occur before the first frost, visibility should be expected to be lower than the map might indicate; and every shade of green on the map will likely be a bit greener ... and white, open forest areas are likely to have some understory. Rootstocks are not shown and none are used for controls. Environmental sample wells are four inch white plastic pipes scattered throughout the park and are shown on the map as blue Xs. Other man-made special features include trail markers, decorative farm equipment, and the occasional old vehicle or other debris, all shown with black Xs.

Overall the terrain in the park supports courses tending toward the high end of Orange for maximum difficulty, but the lower visibility will make solid map contact necessary. This is probably not a venue to run up a course difficulty level – but I've tried to offer leg options for skill development, especially for Yellow and Orange. I've also developed two training courses, with some additional challenges for the advanced runners. These training courses use controls for the advanced courses and will be set with epunches and control bags. They should probably be run in place of a regular course.

Start and Finish will be co-located for all courses.

Beginner Course Notes:
White (1 : 5,000): Intended to provide an interesting tour of the Park's north end.
Yellow (1 : 5,000): Most controls can be reached by staying on or near the designated paths, but for some legs, a willingness to go cross country may yield faster times. Attention to detail will also be important, though, since some White controls will probably be encountered along the way.

Intermediate Course Notes:
Orange (1 : 7,500) : Longer legs tend to end with controls near water features, trails, or distinctive terrain. Most legs provide distinctive collecting features to ensure map contact is maintained or to serve as handrails.


Advanced Course Notes:
Brown (1 : 7,500) remains in the northern part of the park.
Green and Red (1 : 10,000) take runners to the southern part of the park.


Training Courses: My hope with these is to provide a pair of fun practice challenges in anticipation of the National Meet hosted by QOC in November.
Long Training Course (1 : 10,000) will be on par with the Red Course for length. It includes 7 Window O controls (the map will be blank between controls with a small area visible around each control, requiring good compass technique, distance estimation, and perhaps some extrapolation from what is visible within the windows) and 7 Random order controls with some controls in the southern part of the park.
Short Training Course (1 : 7,500) will start identically to the Brown Course and should be on par with Brown for length. It includes 7 Random order controls and two Window O controls.

Entry Fees
Individual Entries

Note: juniors = under 21

| | | | | |
| --- | --- | --- | --- | --- |
| | Club Member, adult | Club Member, junior | Non-Member, adult | Non-Member, junior |
| Epunch Owner | $5 | $5 | $10 | $5 |
| Epunch Borrower | $10 | $5 | $15 | $10 |

Team or Group Entries

Participants are welcome to compete together as a single team entry. Teams containing one or more nonmembers are charged the nonmember individual rate. Teams containing one or more adults are charged the adult individual rate. For teams to receive member or junior rates, all members of the team must be members or juniors, respectively. Each extra team map beyond the first is an additional $2. Individuals or teams desiring to compete on a second course can do so for a reduced fee of $2/map.

Important Notes

At the event, we can only accept payment in cash or check; online, you may use a credit card or PayPal account.
If you have access to a smartphone, you may become a member at the event by joining online via this webpage (which also explains the member benefits). Membership is completely optional. If you wish to join or renew, we strongly recommend joining (or renewing) online before the event rather than at it to save time and because it's easier.
Most of our events use an 'epunch' timing chip for electronic timing. Individuals or groups without their own epunch pay a higher entry fee (see above), which includes the loan of an epunch for that event. Loaned epunches that are lost incur a $40 replacement fee. Epunches (also known as SI-cards or finger sticks) are usually available for sale at each event as described here.
Former QOC members who have let their membership lapse pay non-member fees.
Compasses are available at no charge, but if lost incur a $15 replacement fee.
Please provide collateral (driver's license or car keys) when borrowing a compass or epunch.
For additional safety, whistles are available for sale at $1/each.
Free beginner instruction is always available - just ask at the registration table.